Workouts ready to stream when you're ready to go!! Beachbody On Demand is the only streaming platform where you'll find the world's best-selling, results-focused fitness programs, a thriving member community, and access to a free Coach for support and accountability. And you can try it RISK FREE!
Hear me out people. This is quite a deal…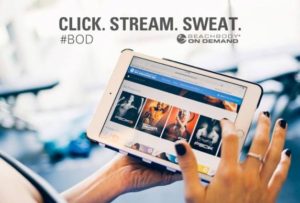 a Beachbody On Demand membership provides total access to EVERY program available on Beachbody On Demand, plus any FUTURE releases once they are added to the BOD library.
Getting Started is Easy!
Choose the right workout program for you from over 40+ unique programs designed to get you results. Access the workouts from your internet browser, or download the App on internet-ready devices like smart phones, Roku, Amazon Fire, and Apple TV.
Use the program's meal plan to boost your results with nutrition that complements your program.
Track your workouts over time and see how your stats add up with Workout calendars and trackers.
Get results and keep going! Do another round of your program, or try something new any time!
What is included in the membership?
Streaming access to over 1100+ workouts, accountability tools, trainer tips, meal plans, and more. Plus, clean eating solutions from Beachbody On Demand's exclusive cooking show, Fixate.
Questions? Check out the FAQ's below or contact me directly at losingfatwithcat@gmail.com!
FAQS

What exactly is Beachbody On Demand?
Online workouts streamed to Internet-ready devices, including a full year of meal planning, recipes, menus, and grocery lists, plus nutrition guides.
What programs do I get access to?
A graphic showing all programs available is also shown at the bottom of the page!
Barre Blend (in early access until June 2020)
4 Weeks of the Prep (in early access until April 2020)
6 Weeks of the Work (in early acces until April 2020)
Morning Meltdown 100
21 Day Fix  and 21 Day Fix Extreme (Original)
21 Day Fix and 21 Day Fix Extreme (Real Time)
Transform: 20
Liift4
80 Day Obsession
Cize
PiYo
Shift Shop
Beachbody Yoga Studio
Country Heat
Core De Force
22 Minute Hard Corps
Focus T25
3 Week Yoga Retreat
The Master's Hammer and Chisel
Body Beast
Clean Week
P90, P90X, P90X2, P90X3
Mes de Mas
TurboFire
Brazil Butt Lift (including Master Series)
Ten Minute Trainer
INSANITY, INSANITY: The Asylum (Volumes 1 & 2),
INSANITY MAX: 30
A Little More Obsessed
Tony One-on-One (Volumes 1-3)
Hip Hop Abs
Tai Cheng
Rev Abs
Rockin Body
Slim in 6
Turbo Jam
YouV2
Shaun T Dance Party
Total Body Solution
Double Time
Yoga Booty Ballet
Ho' Ala ke Kino
Power Half Hour
Great Body Guaranteed
Get on the Ball
Pre and Post Natal Fitness
The 20s
Power 90 and Project You
ChaLEAN Extreme ChaLEAN Extreme Deluxe
plus Trainer Exclusives with Autumn, Jericho, Joel, Sagi, and Tony!
*You will also get any new releases in the full year after you purchase your BOD membership, plus access to the Fixate cooking show and more!
Are these programs available on DVD?
Limited programs are still available on DVD, but each require an additional purchase. BOD gives you access to them ALL once they're added to the BOD library with no additional cost!
I currently pay the quarterly $38.87 fee for Beachbody On Demand. Can I save any money?
YES! You can change your membership options to 6 months for $59.95 or a full year for $99.95. The best deal is a Challenge Pack which pairs BOD with a either Shakeology or our pre-/post-workout supplements Energize & Recover, to save at least $55 but often over $100!
Is this membership available outside the US, Canada, and UK?
No.
What Beachbody On Demand content is included with the Annual All-Access membership?
All content, digital tools and workouts available on Beachbody On Demand, including popular hits like 21 Day Fix, Core de Force, Insanity, Liift4, P90X3, PiYo and Morning Meltdown 100, plus future releases.
How soon is content available after purchasing the BOD membership?
Content should be available within 24 hours of purchasing.
Where can existing Beachbody On Demand members upgrade to the Annual All-Access membership?
Go to www.BODMembershipChange.com or contact me directly at losingfatwithcat@gmail.com.
What happens after the BOD membership expires?
Members are automatically re-enrolled in the annual BOD membership and billed $99.95, until you cancel.
What devices can I stream from?
Users can stream Beachbody On Demand from a supported computer, tablet, or smartphone on the platforms listed:
–Amazon* All generations of Firestick and Fire TV are supported.
–Roku* Roku 2 generation, Roku 3 generation, & Roku Stick, including:
–Roku 2 (2400X/EU, 3000X, 3050X, 3100X/EU, 4210X)
–Roku Streaming Stick (3400X, 3420X)
–Roku 3 (4200X/EU, 4230X)
–Roku Streaming Stick – HDMI (3500X)
–Tyler (2700X/EU, 2710X/EU, 2720X/EU)
–Liberty (5000X)
–Google Chromecast (Beachbody On Demand app for iPhone is Google Cast Enabled; see below)
–Apple TV* -App supported on 4 generation Apple TV ONLY; AirPlay streaming supported on all platforms.
–Mobile iPhone (iOS 8.4 or later) and iPad.
–Mobile Android phone (x out error message regarding java)
–Heart Rate Monitors, Apple Watch.
–Wahoo TICKR X

How do I order?
You can use the following links to click and order. You'll receive access to all Beachbody On Demand programs within 24 hours after ordering your membership! If you have questions about anything please contact me FIRST before ordering at losingfatwithcat@gmail.com.
1.) Beachbody On Demand Membership (no Shakeology)
2.) Beachbody On Demand + Shakeology Challenge Pack*
3.) Beachbody On Demand + Performance Challenge Pack*
4.) Beachbody On Demand + Shakeology AND Performance Deluxe Challenge Pack*
*Reminder: If you currently have a Shakeology or Performance line monthly subscription, cancel it and then order your Challenge Pack to get the BEST deal and more bang for your buck!
And remember, if you want me to be your coach, make sure you see my coach ID (360112), my name (Cathi McMaster), or my e-mail (losingfatwithcat@gmail.com) before checking out. 🙂