I want YOU to join my challenge group and start working toward achieving your health and fitness goals!  Challenge groups were the key to my success so far, because support and accountability are KEY factors!
For the entire month of July you can enjoy THREE challenge pack specials: all new PiYo and 3-Day Refresh, PLUS the Spanish 21-Day Fix!!
Comment below (e-mail would be best!) if you'd like more information or click on the picture or link to purchase 🙂

PiYo™ Challenge Pack
You save $70 with this pack compared to buying each item separately. Limited time only!
Superstar trainer Chalene Johnson will help you get an ultra-lean and intensely defined physique—without bulking up or straining your joints. Using your own body weight, you'll carve every muscle. It's low impact, yet high intensity. No weights. No jumps. Just hardcore results.
Click HERE to order!
3-Day Refresh™ Challenge Pack
You save $70 with this pack compared to buying each item separately.
LIMITED TIME ONLY!
Lose weight and kick-start healthier eating habits in just 3 days with the 3-Day Refresh. This program is designed to fast track your weight loss by detoxifying and cleansing your system while helping you break bad eating habits. For 3 days you'll follow a program of Shakeology®, high-protein shakes, and digestive drinks, supplemented with an array of fresh fruits, vegetables, and healthy fats to keep your energy up while your weight goes down.
Click HERE to order!
21 Day Fix™ en español Challenge Pack
You save over $50 with this pack compared to buying each item separately.
Más ahorras $50 con este paquete en comparación a la compra de cada elemento por separado. 
Lose up to 15 pounds in 21 days! With 21 Day Fix, simple fitness and simple eating mean fast results. Easy-to-follow portion control and 30-minute workouts take the guesswork out of losing weight.
21 Day Fix elimina todas las dudas a la hora de perder peso. No tienes que contar, suponer ni preguntarte nada. Solo debes seguir un plan fácil de control de las porciones y hacer una rutina de ejercicios de 30 minutos al día. 21
Day Fix hace que perder peso sea muy simple, y los resultados se noten rápido: puedes perder hasta 15 libras en solo 21 días.
Click HERE to order!
Haga clic aquí para ordenar!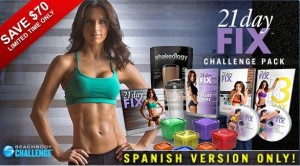 Every Challenge Pack also includes:
Your first 30-day supply of Shakeology

®

—the superfood shake that helps give you energy, reduce cravings, and accelerate your fitness results—delivered on Home Direct, our monthly autoship program.*
A FREE 30-day VIP trial membership in the Team Beachbody

®

 Club, where you'll find all the support you'll need to complete your Challenge.**†
Super Discount shipping (and SAVE OVER $12) every month.
A Challenge Group of individuals (via a PRIVATE Facebook group) working toward similar goals to for motivation and accountability!