UPDATE: I decided it was too much to start training this early for a marathon and pushed it off until July.  I didn't keep up with posting here, but updated everything on Social Media.  Check out my Marathon Recap from December for the full story!
April 17 – So the first day was a scheduled "rest day." Kinda silly, but I understand why it's like this since the rest of the weeks I will need the rest come Monday. But those of you that know me well enough, know that "rest day" isn't necessarily in my vocabulary. I'll preach to everyone else to make sure to take a full rest day, but it's difficult for me with the training, practicing for and teaching my fitness classes, and having my social walks with friends. But there are definitely days that I take it easier and don't push it, which I consider rest compared to regular days. So since this was day one, I did about 80% of a kickboxing workout (got a little lightheaded toward the end so decided to call it quits), then went for a 3.8 walk with a friend. Felt good, ate good. Not enough water, but better than I did on vacation. Did have about 3/4 of a leftover Sahlen's hot dog that my mom left in my fridge (noms) as an evening snack. Oh well, it was worth it.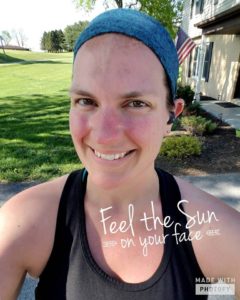 April 18 – Back to reality after spring break. Was active most of the day since I started inventory in the library while we're slow before SOLs. Training schedule called for 1.5 miles which seems ridiculous to me, but it actually feels like I'm retraining myself altogether. A few times I looked down and was doing about 7:45-8 minute mile and I need to get out of that mindset. I think I have figured out that I will aim for 9:45-10 minute mile for marathon pace. That's my conversational pace so I'm hoping to work that out. I know longer runs will be easier for me to take it easy. Short runs I always just go for as fast as possible, so old habits die hard. I'll work on it 😛 I like that this schedule has two super easy runs, a bit of a longer run mid-week, then a longer run on the weekend. I think it'll work out really well, especially once it gets hotter. I can't wait until summer when I can do all my runs in the morning before it gets too warm and sunny. Did Combat Kickstart after I got back from my run. I think I'll rotate through many of my kickboxing/MMA programs to work my arms and core since my legs get a lot of work from running, but all the kicks help strengthen and stretch my quads and hamstrings, too. I want to do more weight lifting, too, but was wanting more cardio today. Ate really good, except one chocolate truffle that a co-worker brought back from her trip to England. Considered it a great success since normally I would eat multiple!!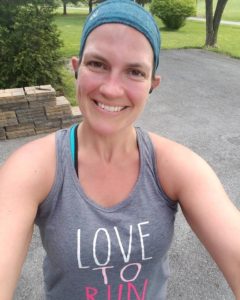 April 19 – 3 miles was on the schedule for today, but I did 3.1 because I can definitely handle the extra. Stayed at about 9:20 average pace which felt pretty good. Was cloudy and 59, which is a temp I can definitely handle. Ended up helping Ricky mow the lawn when I got done with my run – him on the rider and me on the push mower. Shoulders and back were screaming from inventory, punching from the MMA routines, and pushing the mower around. Definitely gonna rest the arms the next couple of days.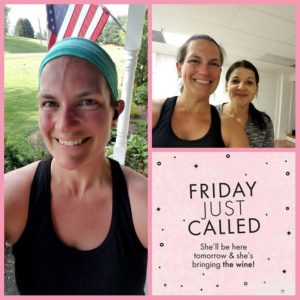 April 20 – Super warm today – 79, and barely any breeze. Plus the first time I've ran three days in a row in a super long time. Averaged about a 9:30, which is not the worst it could be…but made me feel pretty lame for only 1.5 miles. I hate hate hate hot weather. I would rather run in 40 degrees any day. Thankfully the marathon is in November… Taught my fitness class later that night. Lots of steps today!
April 21 – Friday is another scheduled rest day, but I teach my fitness class at my other location on Fridays. But I only did that, so I definitely rested from running and overexerted cardio. Sleeping isn't the best that it could be, but working on getting upstairs earlier each night so I can at least try to fall asleep earlier. Definitely don't want to have to medicate myself in order to fall asleep quicker or stay sleeping, unless completely necessary.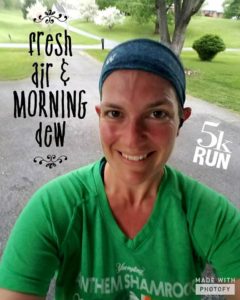 April 22 – Got up bright and early to get 3.1 miles out of the way before my my bi-annual VRC meeting in Charlottesville. I knew I was going to hang out with a friend after the meeting and then game night when I got home, so it had to get done before I left or it never would. Averaged a little faster than the 3.1 earlier this week, but it was only 55 and raining. Thankfully it didn't start pouring until the last few tenths of a mile. After my half in Virginia Beach a little over a month ago, I won't ever skip a run because it's running unless it's ridiculously cold or somehow unsafe. I figure if I ran 13.1 in near-monsoon weather, with a sandstorm, I can handle anything haha. Shared a bottle of wine with a friend at a winery, and had more cheese than I think any human should, but totally worth it 😛
April 23 – Taught my last Sunday fitness class then went for a nearly 4 mile walk with a friend. Schedule calls for a 30 minute walk, but we usually do around 60. Didn't make the best nutrition choices today, but we were out and about with errands. Gotta get packing – Punta Cana is gonna be here before we know it! Adjusting my schedule next week so I'm not expected to run after arriving in the Dominican Republic, because you know that won't happen! So I'll run M-T-W instead of T-W-Th. I'll still do the second long run on Saturday, because that way I can say I ran in the DR 😛
Weekly wrap-up — pretty pleased with how everything started out. I only go up a little on my second longer run next week…the rest of the runs are the same. I definitely think I could increase the mileage quicker, but I'm trusting the schedule and really want to get through the training injury free. Especially with the foot pain from the last half and subsequent runs thereafter, I definitely don't want to push things too quickly. I think a lot of that came from treadmill running and I'm going to stay away from that unless the weather is really ridiculous. We'll see how everything progresses! 🙂