Whether you're a current subscriber, upgrading from BOD at your next renewal, cancelled but regretting it, or even slightly curious how this could even apply to you…let me assure you that BODi has major benefits for EVERY BODY! And it's still less than 50 cents a day…which is craziness to me!
Beachbody OnDemand (BOD) has been the workout library you are likely already used to or have heard about – a combination of pre-recorded programs that were once available on DVD, and Real Time workouts that allow you to do a program with no repeated days. BODi (Beachbody OnDemand Interactive) is the integrated platform, with all of your old favorites and fresh, new content every single month to keep you reaching your health, fitness, and mindset goals. Visit my BODi page if you need a little more info.
So what is the difference between a BODi Block and a Super Block, who gets them, and how much are they?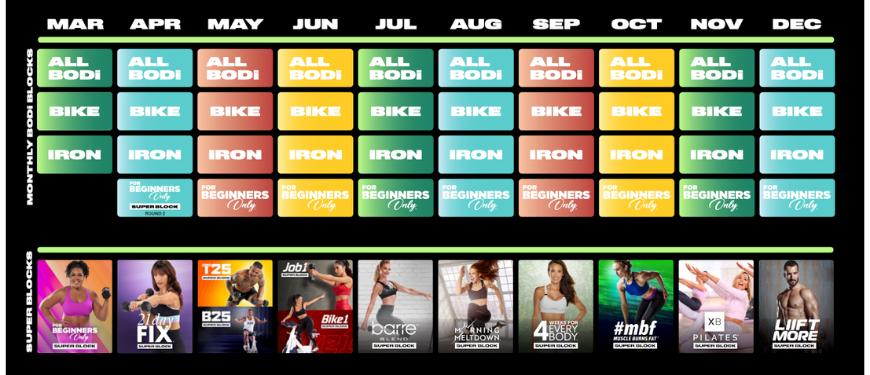 Everyone with BODi gets four FREE Bodi Blocks every month that include a combination of pre-recorded workouts from various BODi and former OpenFit trainers. These blocks help you focus on either All Bodi (mixture of strength training, cardio, core and mobility), Bike (cycling with strength training), Iron (lifting), or For Beginners Only (great for building a foundation, restarting, or keeping it low/no impact).

Super Blocks (along the bottom of the picture above) are basically mini programs, remakes of the originals redesigned by each Super Trainer. These are FREE with a qualifying autoship or Total Solution Pack purchase, or $29 each. I'll be running Accountability groups for all of them, but figured this graphic would allow you to plan ahead if there's one or more remakes that you're looking forward to doing! (I CAN'T WAIT for T25/B25, especially!!)

Both Bodi Blocks and Super Blocks follow the same format… 5 workouts a week for 3 weeks followed by an UP week (Unconditional Progress) to reset. It's all about block periodization—the perfect balance of exercise, recovery, and training variation. Start the first Monday of the month or whatever day works best for you! And all workouts are set to popular music so you can work out to today's greatest hits. I get bored quickly, so this sets me up for the year with new and fresh content!
Please let me know if you have any questions or need clarification on anything. I can check your account to see if you are getting access, qualify for free Super Blocks, or how to get locked in for a year of workouts, nutrition, accountability and support!
Make Fitness Fun. Ditch the Diets. Make your Mind Strong, Too.