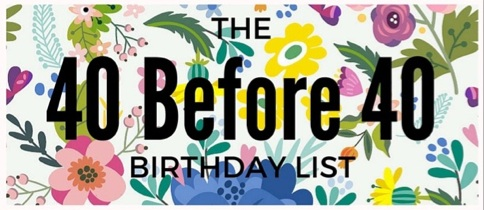 UPDATE 12/30/21 – I ended up extending this to the rest of the year, since I couldn't complete everything by my birthday. I still didn't complete all 40 items, but I got as close as possible and will try to get these accomplished after I tackle 2022's list!!
Instead of doing a Bucket List for 2021, I decided to make a "40 Before 40" list to complete before I turn 40 on September 26, 2021. I'm exactly 9 months out today, about 40 weeks as of this week…so as long as I can get at least one thing accomplished every week during that time I should be okay 🙂 I took some suggestions from others, added a few left undone from last year, and included some things I really enjoy doing or wouldn't mind trying again. I also included some back-ups in case some things become inpossible or a bigger challenge for whatever reason, or I can use them as some "extra credit" 😛 So here's to making the last year in my 30s count! I'll try to do better about logging when these things occur, maybe even with photographic or video evidence! ?
Contribution
1. Send notes to 40 people who are important to me – completed 9/22, even a few extra!
2. Donate Blood – moved to next year's list!
A Long Time Coming
3. Clean & organize the closet in guest room #2 – not completed, but great progress made!
4. Get another tattoo – moved to near year's list!
Body & Health
5. Participate in flotation therapy – completed 1/18, in Colorado
6. Try eyebrow threading – didn't actually grow them out enough to do haha
7. Do a boudoir session – still working on my confidence for this one…
8. Complete "Unstress – 21 Days of Meditation" – moved to next year's list!
9. Take a bubble bath – completed 12/28
Enrichment
10. Participate in a Reiki session – no, but I really need to since I work with a Master!
11. Learn a new skill – completed 3/20, became Adobe Creative certified
12. Watch a documentary or read a book on an issue/topic I don't know
about – completed 3/16
13. Read a book published in 1981 – completed 12/16, A Light in the Attic
14. Do something crafty or make something from scratch – completed 9/16, video & graphics
15. Attend a religious service – completed 7/23, the Rosary for Aunt Betty
New Challenges
16. Hike Old Rag – completed 9/18!
17. Try indoor skydiving or a zip line – our trips were so chock full of activities already!
18. Go SUP – by the time I decided I was ready, the river was too low haha
For the First Time
19. Go on a whale watch – moved to next year's list!
20. Go behind a waterfall (besides Niagara Falls) – completed 9/23, Jungle Cruise haha
21. Have a movie night in the back yard – completed 12/31
Travel
22. Visit 5 new states – completed 12/22, CT-AL-MS-GA-DE – they weren't all brand new states, but spent more time in ones I had only previously driven through!
23. Take a train ride – completed 9/25, from King's Cross to Hogsmeade at Universal 😛
24. Go on a road trip – completed 10/23, to Myrtle Beach
25. Order room service – completed 11/13, in Atlantic City
26. Go to a planetarium – completed 10/28, on a field trip to Hylton
27. Swim in an ocean – completed 10/23, in Myrtle Beach
Try Again
28. Shoot a gun – completed 8/5 if you count all the times I pew pew'd at MIB 😛
29. Do a cartwheel – completed 9/25, between the taco truck and the DeLorean 😛
30. Go golfing again (and beat my previous attempt) – nope, that angry dude situation kinda turned me off golfing for a bit…
31. Hit a bullseye in darts – completed 11/26, against Ricky 😛
32. Attempt driving a stick shift – I realize that I don't have many friends with manual cars anymore!
33. Roll down a hill – probably one of the easiest things I could have done, but just never did! I'll find one soon!
A Few of My Favorite Things
34. Sing karaoke – had an opportunity for my birthday, possibly, but was too freaked out!
35. Make snow angels or a sand castle – completed 1/18, at Breckenridge
36. Go skiing – completed 2/6, at Cockaigne again!!
37. Play a instrument – completed 11/26, strummed an old violin at a flea market…yes this could have been a better attempt 😛
38. Attend a music festival or concert – completed 9/7, Maroon 5
39. Ride a roller coaster – completed 5/5, Velocicoaster!!!
40. Watch a sunrise & sunset in the same day – completed a few times but 12/11 was the most memorable
Back-Ups or Extra Credit
Make a wish while tossing a coin (i.e. fountain) – completed 12/5, while waiting for Branson to see Santa
Dress up for a not-so-dressy occasion, just because – meant to do this for NYE but we were already comfy haha
Go to the drive-in – completed 9/4, dawn to dusk marathon (but we only made it through 3 ha)
Attend Cirque du Soliel – unfortunately not, though I want to make it to the one at Disney Springs in 2022 if I can!
Play the lottery – completed 12/15, was gifted a lotto ticket from a co-worker for Christmas!