I returned from our 10th anniversary trip to two of the Hawaiian islands this winter with nearly 2500 photos and videos. It wouldn't make sense to share all of those with an audience, because I'm sure most of you could care less haha. But when I was doing my massive research for this trip, I found the use of blog posts from those who traveled there extremely beneficial, so I decided to add to the mix! Here are 16 Hawaiian Superlatives from our experiences on the big island of Hawai'i and Oahu. (I'll add individual pictures for each tomorrow…it's time for bed haha)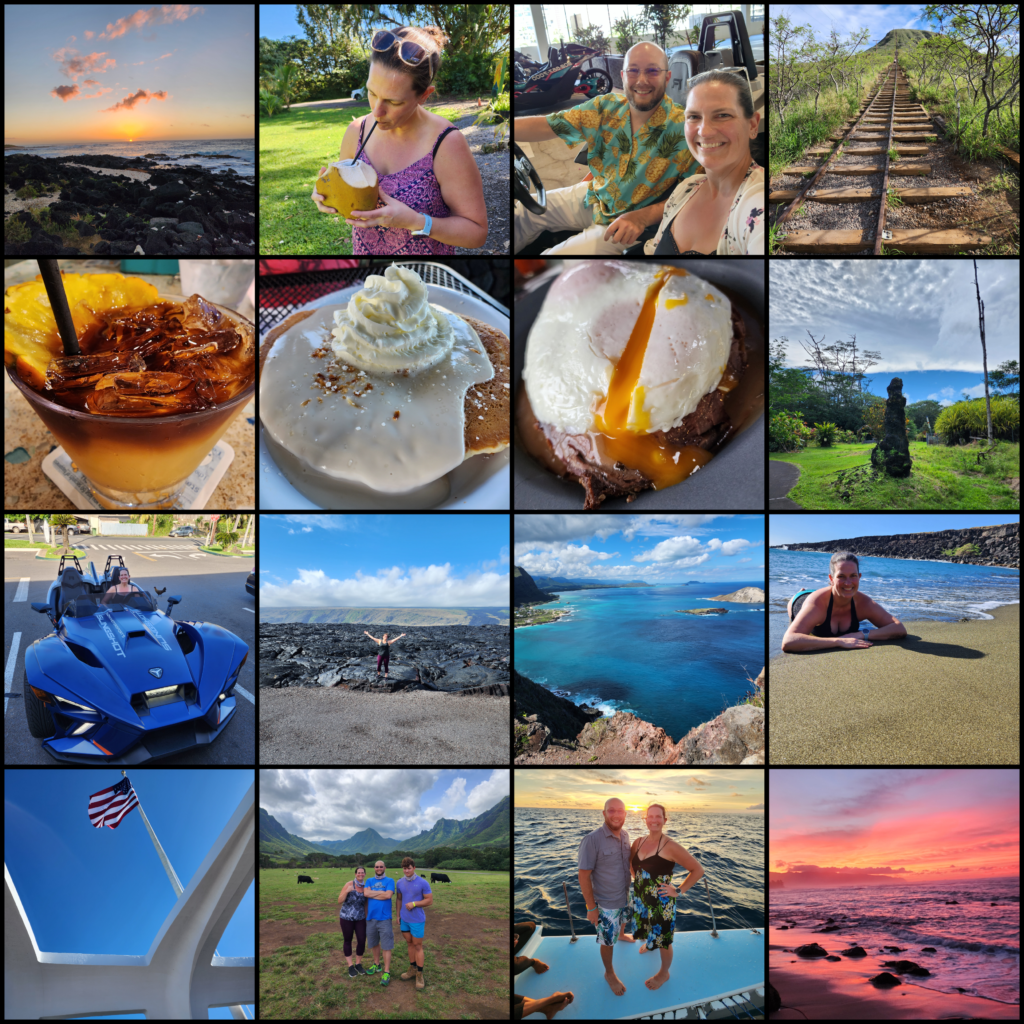 Most Memorable Sunrise
Since we decided to stay in Hilo, on the windward/eastern side of Hawai'i, we thought that every sunrise would be epic! Turns out that, even oceanfront, we were nestled in a little bit of an inlet and some industrial buildings and trees blocked the best view from our hotel. I had placed "visit the southernmost point of the continental US" on my 2022 Bucket List the previous year, and the closer we got to December it didn't look like I was making it to Key West. But I did notice that there was an area called South Point on the big island that was the southernmost point of ALL of the US, so I figured that would be close enough haha. In my research I saw that sunrises there were quite amazing…but also SEVENTY NINE miles from our hotel. But you know me once I make my mind up about something, and thankfully Ricky was on board (as long as I drove haha). So we got up at 4 a.m. to make the trek to South Point and ended up having the entire area to ourselves! I walked along the beach beside a coral wall while Ricky did timelapse, and didn't realize I accidentally ended up trespassing oops! Thankfully no one was there to notice, but I saw the sign on our way out haha. It's definitely a sunrise I will never forget!


Best Spontaneous Experience on Hawai'i
On our way to Akaka Falls, we noticed there was a coconut stand nestled in a grove of trees on the side of the road. We said that if we had time we would stop on the way out. Well, I'm glad we made time because it was a really cool experience! We decided to do the trifecta of coconut, pineapple, and sugar cane, and all three were super fresh and delicious. The guy chopped the top off the coconut, we got to drink the coconut water, then we watched while another guy scooped out and cut up the meat. He added it to fresh pineapple in a baggie, and got another baggie of sugar cane with lime that we could take with us. Coconut is something I only started liking within the last 7 years or so, but I definitely prefer it shredded or toasted rather than cut fresh haha. Still, so much yum!! Definitely get fresh coconut, pineapple, and/or sugar cane if you can while you visit. WAY better than store-bought.


Best Spontaneous Experience on Oahu
I intentionally left a day on each island as a "take it as it comes" kind of day, so that Ricky didn't get too exhausted with the rest of my over-planning haha. Christmas Day made the most sense to me for our time on Oahu, since I wasn't sure how hours would be affected in various locations. Turns out, pretty much everything is still open…sometimes whether they wanted it to be or not haha. I did book a brunch that morning, because I knew we would need a reservation, but the rest of the day was wide open. Ricky had been toying with the idea of renting a Slingshot so we could drive it around the island. Oahu isn't nearly as big as Hawai'i, so you can make it from one side to the other in about 30 minutes, and even around the entire perimeter of the island in about 2 hours. He did a little research and said that if after brunch this place still had one available to rent, that we would do it. When we got there, Aloha Motorsports had ONE vehicle left for renting and he even gave it to us for an extra hour beyond what we had to pay for! What an awesome experience, even better than the convertible we had on the big island! I HIGHLY recommend making this happen, and they are even available on ALL four of the main Hawaiian islands now!


Most Challenging (But Worth it)
There are plenty of hiking opportunities on both islands that we visited, but by far the most challenge was the Koko Crater. I thought I had done extensive research on everything we put in our itinerary, but apparently I skipped a few key details on this one haha. It's only a little over 1.5 miles out and back, but there's an elevation gain of 884 feet during that time and you're traveling over 1,048 railroad ties as it gets steeper and steeper toward the top. This "Stairmaster" was BRUTAL, especially since there is no chance for shade (since you're on the side of a freakin' crater). But I promise the views are worth it at the top!! And getting down was WAY easier than going up haha. Just get there early, take it slow, bring water, and wear sunscreen!


Best Mai Tai
I only tried four different versions of a Mai Tai during our two-island adventure, but my favorite ended up being the first one I got! The day we arrived, we ended up getting a little off schedule and missed our only real planned opportunity for a sunset in Kona (since we stayed in Hilo). But we still decided to go to Lava Lava Beach Club, since they were oceanfront and promised delicious drinks and food. It was a bonus that the Bills game was still going, and they were playing it in the bar when we sat down! The menu says the Huggo Mai Tai has been around since 1969 and "is the best in the islands." I do have to agree…plus the color gradation of the juice/rum blend was perfection and well worth the $11!


Tastiest Thing (Hawai'i)
Do yourself a favor and visit the Hawaiian Style Café for breakfast!!! So many delicious options, but the haupia pancakes were DIVINE. You don't even have to order them separately! I upgraded the regular ones I got with my meal, and they are HUGE! Worth the upcharge and the sugar rush haha.


Tastiest Thing (Oahu)
The best thing I tried on this island wasn't even something I ordered! We were looking for an easy breakfast spot while we waited for the Ho'omaluhia Botanical Gardens to open, and we didn't want anything chain that we could have on the mainland. Driving around, Ricky spotted a sign that said "Over Easy" and it made sense that they would serve breakfast! Sorry, McDonald's, for parking in your lot even though you had signs explicitly stating those spots were for customers only haha. Though everything that came to the table was super delicious, the Prime Rib Loco Moco that Ricky got was absolutely amazing. Huge portions, decent prices, and you can't beat farm-fresh eggs with super dark yolks YUM.


Skippable
Okay, so it's not really fair to say this is a skippable adventure, as it was still pretty cool to see. The Lava Tree State Monument contains preserved molds of trees after lava went through. It's a super easy circular trail, not even 3/4 of a mile roundtrip, and very quiet. But during our maybe 15 minute stroll, our rental car and the van next to us were broken into. We noticed different colored glass on the ground after that, too, so I'm thinking it wasn't the first time (and likely won't be the last). I guess just don't go out of your way to check it out, and maybe take turns watching the car if you end up there haha.


Silliest Encounter
Though I let Ricky do a majority of the driving when we rented the Slingshot, I wanted the opportunity to give it a whirl at least. So I took a 10-15 minute turn just to see what it was like! Before we switched back, I wanted to get a picture of me in the driver's seat, so Ricky snapped a few shots. Well, turns out there was a photogenic feral chicken that wanted to be a part of it, too haha. We saw lots of chickens on the islands, but this one was surely the silliest!


Don't Miss (Hawai'i)
Absolutely DO NOT MISS Hawai'i Volcanoes National Park!! No matter the weather and conditions…you'll still have an amazing time, promise! A week before we left for the islands, we were super excited that not only was Kilauea erupting, but so was Mauna Loa! TWO active volcanoes, woot! Well, by the time we got there, neither was doing its thing…boo. AND we had lost our America the Beautiful Pass to the break-in from #8. So even though I knew there was a lot to see at HVNP, I wasn't nearly as excited as I was when I originally planned the adventure haha. But we had an amazing time! What started out as a cold, windy, rainy day at higher elevations, ended up a beautiful sunny day with waves crashing. Definitely dedicate an entire day to this… travel the crater rim, hike to the crater floor, check out the lava tube, and go all the way out Chain of Craters road to the Sea Arch. The power of nature is pretty freakin' awesome!!


Don't Miss (Oahu)
First, I don't recommend doing this on the same day as #4! But we did and survived so it's definitely doable, just be ready for your legs to yell at you haha. The Makapu'u Point Lighthouse Trail is a 2 mile roundtrip hike that's on pavement (yay!) and uphill the whole way (ouch!). But the possibility of seeing whales is quite high, the views are fabulous, and you can easily do it in flipflops haha.


Most Unique Experience
Did you know there are only FOUR green sand beaches in the entire world? And with the other three being in Guam, Ecuador, and Norway, we knew we couldn't let the one in Hawai'i NOT make the itinerary. We were already pretty close to Papakōlea, after watching the sunrise in South Point, but there's still a lot involved to get to the beach itself. I highly recommend doing the roughly 5.5 mile roundtrip hike, because you see so much along the way, and driving down there is technically illegal. There are locals that will offer rides, but there's no advertised price so it could be $$$! Since we got there early, we were able to have the beach to ourselves for about 20 minutes! Those that get driven in had a time limit, so they came and went while we laid there for awhile. There were a ton of crabs scuttling about on the beach, and a beautiful pink & purple one was hanging out next to us! Never saw one that looked like that before, for sure. And on the hike there and back, we saw a Hawaiian Monk Seal sunning on a rock, which was surprising since they're endangered. He was a little flirt haha. Definitely put this on your list if you will be on the big island…it's a once-in-a-lifetime experience for sure.


Top WOW Moment
Though #12 was pretty amazing, Pearl Harbor was the top wow moment for me. I self-admittedly didn't pay enough attention in Social Studies, so I'm super thankful that we opted for the audio tour. Listening to first-hand accounts and being reminded of all the loss that occurred was an extremely somber experience. I wish we had been able to do the Ford Island Bus Tour (next time!), but I'm glad we made it in time to get to the USS Arizona Memorial. You can't go to Oahu and NOT go to Pearl Harbor…just make it happen!


Worth Every Penny, Costly
Being big fans of the Jurassic movies, and frequent visitors to Universal Studios Florida, I was so excited when someone posted about Kualoa Ranch in my passholder group. I knew this was something I wanted to surprise Ricky with, and thankfully our friend Kyle was down for joining us (and sharing the military discount with me haha). There are multiple tour options for the ranch, including zip-lining, e-bikes, jeeps, utvs, and even a secret beach. I chose the 2-hour Raptor tour through the Jurassic Valley, because we got our own vehicle for the three of us and got to adventure around, take pictures, see great sights, and learn a lot about Hawaii (and the 56 ABC stores in Honolulu alone haha). Even if you don't opt for a tour, make sure to drive out to Kaneohe and see the beautiful landscape!!


Worth Every Penny, Budget-Friendly
If you happen to be in Waikiki, get your ass on a catamaran…preferably during a sunset!! I highly recommend Kepoikai II. It's only $30 per person for a gorgeous, fun adventure on the water! The crew was entertaining, the people we met were super nice, and the drinks were cheap! And after a highly stressful afternoon where we missed our first chance on the boat, they were nice enough to squeeze us in the next day even though the website said otherwise. We'll definitely be back!!


Prettiest Sunset
Started the post with a sunrise, so it makes sense to finish with a sunset! Christmas Eve we hung out with a friend of Ricky's from Whitetail who is stationed on Oahu. Though I had a bunch planned out for earlier in the day, I left the tail end of the day to Kyle to bring us to some of his favorite places. We spent the afternoon on the beach in Waimea Bay, watching some surfers in the crazy waves, enjoying the sun as it went down. The sunset there was beautiful, but didn't end up being the prettiest sunset we saw. The sky was still a beautiful hue as we were pulling away, and as we were passing Laniakea Beach (which is one I was bummed we were going to miss), we decided we needed to stop. We parked quick, ran across the road, and watched the rest of the sunset with a turtle on the beach!! GORGEOUS! The sunsets last forever there haha.